Goodbye Beautiful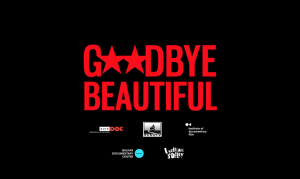 LOGLINE
The last battle cry of two 90-year-old partisan veterans -who in 2020 are fighting to save the WWII Memorial Complexfrom privatisation and demolishing – takes us on a journey which reveals valuable insights into life, death and destiny of the anti-fascist legacy in post-Yugoslav societies.
SYNOPSIS
Miša Mirković (90) has been filmed since his early childhood throughout his entire adult life. In WWII he was wounded four times. He was a child courier to the famous partisan leaders which paved a path to him being assigned acting roles in many Yugoslav feature films. In the late 1950s he also embarked on a film directing career in television, which was followed by his appointment as a head of the TV Belgrade up until his retirement. During this time he led an active social life in a company of some of the most influential personas of the post-WWII Yugoslavia. Mostly forgotten, Miša spends his elderly days maintaining his health in a socialistic style skyscraper with his wife who's poor in health.
During one of the routine checkups he hears the news about the sale of the Memorial complex "Bosko Buha" dedicated to WWII children fighters. Although the Memorial complex is protected as a cultural good of an outmost value and significance by the Ministry of Culture of the Republic of Serbia, it has nevertheless been neglected and left to deteriorate, only to find itself open for sale as a piece of a derelict socialist era enterprise facing insolvency. Miša decides he needs to do something.
As most of his comrades are either dead or immobile, Miša seeks help from Zdenko Duplančić _(91) a former child fighter and retired aviation colonel. After WWII Zdenko was sent to the Military Academy in the USSR only to become an advisor to a large number of liberation movements in the Middle East and Africa. Zdenko virtually spent his entire life in the military's secret service. He supervised import and export of the entire arsenal for the Yugoslav Army. Today he leads an active social life as apresident of a large number of WWII veteran societies.
Miša and Zdenko will join forces in an attempt to form a larger group of activists to stop the selling of the Memorial complex Boško Buha" and its further decay. During their fight they face absurd daily challenges and inertia of institutions in a society inclined towards an oblivion of their own socialist part, values and heroes.
In a moment when it seems that their fight begins to show results and close to achieving their goals, the world is being struck by a pandemic of a deadly virus which destines them to an indefinite lockdown.
Project has been selected for the   Ex Oriente 2019 ,BDC Discoveries 2019 and EURODOC 2019 (regional group) training programs and supported by Film Center of Serbia (co-producing Project Development Competition)